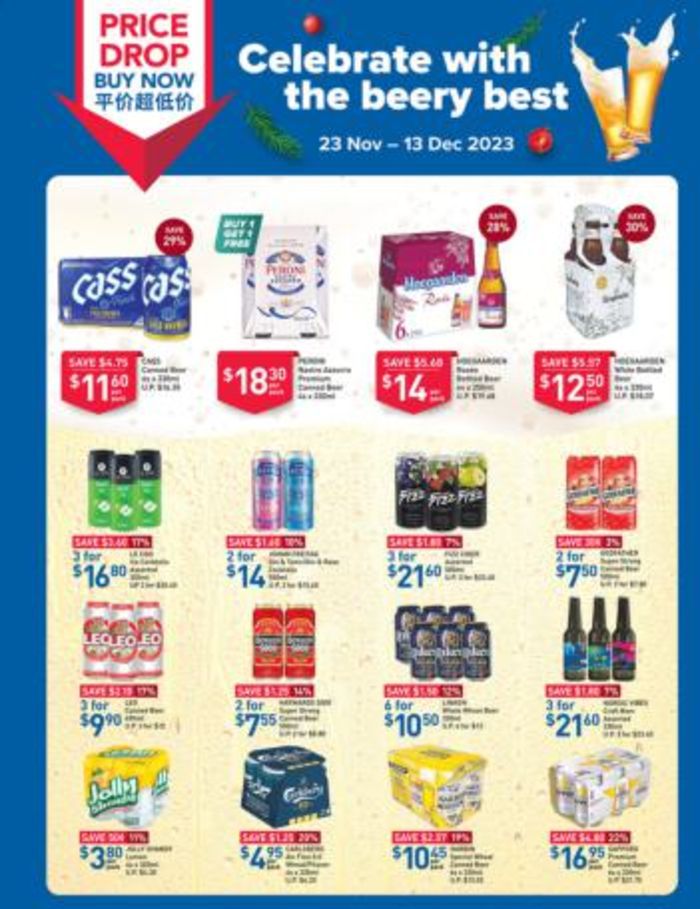 Celebrate with the beery best
Looking for the best FairPrice offers
If you are looking for the biggest FairPrice discounts you are in the right place. Here on Tiendeo, we have all the catalogues so you won't miss out on any online promotions from FairPrice or any other shops in the Supermarkets category in your city. There are currently 5 FairPrice catalogues on Tiendeo. Browse the latest FairPrice catalogue "Celebrate with the beery best" valid from from 26/11 to until 13/12 and start saving now!
Find FairPrice catalogues in your city
FairPrice, all the offers at your fingertips
FairPrice
Fair Price offers a wide and affordable range of groceries, fresh foods, and home care products.
Stock up on all your daily needs at 120 Fair Price outlets in the country. Need more? Head to Fair Price Xtra where you'd find even electronic goods and family-sized packaging for more savings. Or, look for the slightly more upmarket Fair Price Finest outlets for your gourmet needs.
Visit Fair Price online to shop anytime, anywhere, and watch out for their exclusive online promotions!
To make things even more affordable, check out their Fair Price Housebrands, which includes labels like Pasar, Fair Price Gold, Budget, and even Pasar Organic.
NTUC Fairprice Co-operative Ltd was founded by the labour movement in 1973, with a social mission to moderate the cost of living in Singapore.
NTUC Fair Price employs more than 8000 employees today.
The FairPrice Foundation was set up in 2008 with the aim of serving the community and the poor and needy.