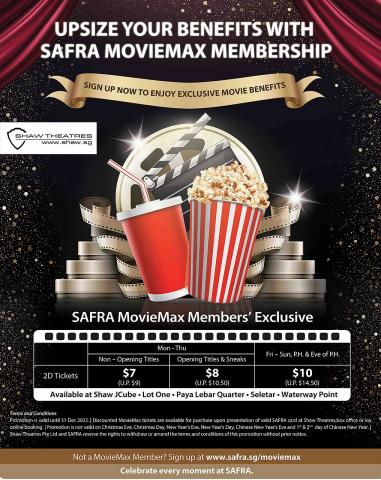 Safra Moviemax Membership.
Looking for the best Shaw Theatres offers
If you are looking for the biggest Shaw Theatres discounts you are in the right place. Here on Tiendeo, we have all the catalogues so you won't miss out on any online promotions from Shaw Theatres or any other shops in the Travel & Leisure category in your city. There are currently 2 Shaw Theatres catalogues on Tiendeo. Browse the latest Shaw Theatres catalogue "Safra Moviemax Membership." valid from 11/02/2022 to 31/12/2022 and start saving now!
Find Shaw Theatres offers in your city
I want to receive the latest Shaw Theatres catalogues and exclusive offers from Tiendeo in your city
Other Travel & Leisure stores in your city
Shaw Theatres, all the offers at your fingertips
Shaw Theatres
Shaw Theatre Singapore screens the latest blockbuster movies from Hollywood as well as homegrown and regional films.
There are 8 Shaw Theatre locations in Singapore. Great entertainment is never far away!
Visit the webpage to check Shaw Theatre Showtimes and to book your tickets online.
The Shaw Foundation was set up in 1957 by the Shaw brothers and is currently one of the largest philanthropic organisations in the world.
Shaw Organisation is a film distribution company and movie theatre chain founded by brothers Runme Shaw and Run Run Shaw when they came to Singapore in the 1920s.